Last night, internet service provider SkyMesh announced on broadband forum Whirlpool their new offering of symmetric 100/100Mbps download and upload speeds over nbn™ fibre to residential customers.  SkyMesh is the first nbn service provider to offer speeds of over 100/40Mbps to residential connections.
SkyMesh Managing Director, Paul Rees, says the push to provide 100/100 Mbps services came from their customers.  "I think it was first suggested on Whirlpool, then customers started calling to ask if we could provide any faster upload speeds at their premises."
Paul says the interest initially came from small business customers who backup their data to the Cloud.
"We have a few customers who are graphic artists and one video production company that produces television advertising.  They were looking for a faster way to upload their large files, then they saw the faster speed plans on our website and called us."
"These faster upload speeds are also ideal for people who use Dropbox and other file sharing applications."
Plan costs stated on their website start at $99.95 with 30GB anytime data and 60GB off-peak data, with options to go to 2.4TB anytime data and 16TB off-peak data for $199.95.  The prices represent an increase of between $40-$50, compared with those with similar data allowances on the company's 100/40Mbps plan.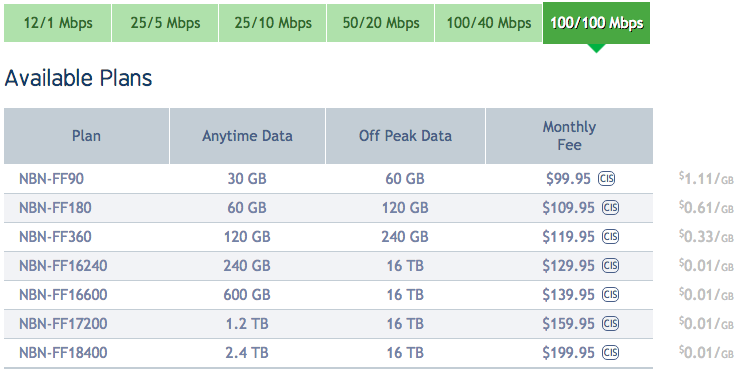 SkyMesh also states that can offer custom plans with and "will also do our best to match any Plan published by a competing NBN Co Access Seeker".  However, with no other access seeker offering symmetrical 100Mbps speeds to residential customers, there is little opportunity to compare pricing.
Innovative use of 250/100 Mbps AVC
nbn™, the company responsible for running the National Broadband Network, does not offer symmetrical port speeds (AVC) of 100 Mbps over Traffic Class 4.  However, the service provider has indicated that they will instead use the 250/100 Mbps AVC option and speed limit the download to 100 Mbps while retaining uploads at full speed.  The higher tier AVC costs $35.20 including GST ($32.00, excl GST) more than the 100/40Mbps ($70 vs $38, excl GST).
Availability
The company states that "nbn co only offers the relevant AVC product to Fibre and FTTB services". However, they will only be "offering these plans to end users on nbn™ fibre".
SkyMesh also notes on its website that "plans faster than 100/40 Mbps are available at most, but not all, locations".  They elaborate on their announcement thread on Whirlpool that some premises in the following areas will not have access to those speeds until nbn™ completes network upgrades:
Aitkenvale QLD
Armidale NSW
Bacchus Marsh VIC
Bombo NSW
Casey ACT
Goodna QLD
Jamberoo NSW
Kanahooka NSW
Kiama NSW
Minnamurra NSW
Mundingburra QLD
Redbank QLD
Willunga SA
SkyMesh is leading the way
The company, who has a direct relationship with nbn co, was originally a wireless and satellite broadband company offering services over their own wireless network in South East Queensland and on the IPSTAR.  However, with the rollout of the National Broadband Network, the company began offering services over nbn™ fibre, nbn™ fixed wireless and nbn™ interim satellite.
Since it started offering nbn services, it has become one of the most innovative providers.  It was one of the few service providers who trialed the up to 50/20 Mbps speed tier on nbn™ fixed wireless this year before its commercial launch, and will also be trialing the nbn™ long term satellite with select customers before its commercial launch next year.
The company is also the only service provider to offer unmetered Netflix traffic to customers over nbn™ fixed wireless, and also offers this feature to nbn™ fibre customers.