Small cell equipment mounted on existing power and light poles
TPG has begun a test deployment of small cell 4G radios in metropolitan Sydney and Melbourne. Last month, the Australian Communications and Media Authority (ACMA) granted the telco a set of scientific licenses for testing.
The Sydney test deployment includes sites at 8 locations between Circular Quay and Martin Place.
TPG is mounting its equipment on existing power poles and street lights. The picture below shows the deployment at Pitt St near Circular Quay, with radio equipment mounted on the side of the pole and two smaller antennas attached near the top.
The Melbourne CBD deployment is much larger with around 80 sites in an area bounded by La Trobe St, Spring St, Flinders St and Spencer St.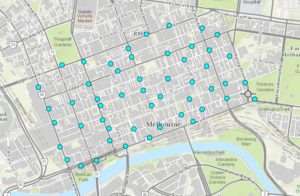 TPG acquired two 10MHz blocks of 700MHz in the leftover digital dividend auction in April last year. The telco paid $1.26bn for the right to use the spectrum until the end of 2029.
The temporary scientific assignments provided to TPG for testing are due to expire on 1st April 2018.