Tasmanian communities of Queenstown, Rosebery, Zeehan and Strahan will be forced onto an already "severely oversubscribed" satellite beam.
The company building the National Broadband Network (nbn) has revealed that they will no longer provide a fixed-line or fixed wireless solution to major settlements located along the west coast of Tasmania.
Up till July this year, nbn has released various rollout plans showing the towns of Queenstown, Rosebery, Zeehan and Strahan as candidates for the Multi-Technology Mix (MTM) and Fixed Wireless rollouts which would have seen Fibre to the Node be rolled out to the majority of premises.  The area was also expected to receive a Fibre to the Premises rollout under the previous all-fibre NBN policy.
Queenstown: 1,300 FTTN
Rosebery: 600 FTTN, 300 FW
Zeehan: 500 FTTN
Strahan: (originally planned for NBN Fixed Wireless)
However, when questioned by Senator Anne Urquhart at a Senate Estimates hearing last month — nbn's chief executive Bill Morrow revealed that they have re-allocated premises in those areas to be serviced by the recently launched NBN Satellite.  Citing high costs of up to $20 million to build out a second fibre path to the west coast towns, the executive said:
Because of the cost to provide fibre services in the backhaul sense to serve within the FTTN. The area only has one fibre path going out to it, and you need to have two for redundant based services. The cost—and we have looked at it a number of different times—to provide fibre out there in a different path makes it exorbitantly expensive.
The move to satellite has also been independently confirmed using NBN's internal technology modelling.  However, the towns affected are all currently being serviced by Telstra ADSL/ADSL2+ services, with Queenstown having access to the Telstra 4G network as well.
"Severely Oversubscribed" Satellite Beams
The beams servicing this area, number 54 and 56, has also been identified by NBN's Fixed Wireless/Satellite Strategic Review as being "severely oversubscribed" prior to the redesignation of the fixed-line footprint in July.  Adding another 3,000 premises would not improve the satellite congestion anticipated in those areas.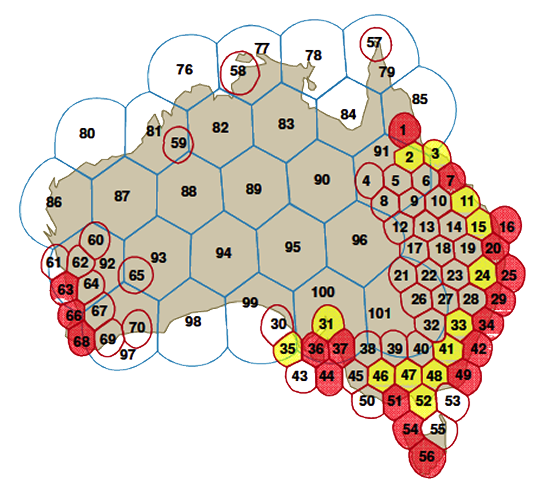 However, given the availability of existing ADSL/ADSL2+ services in those towns, it is unlikely that residents will switch to the National Broadband Network due to increased latency.  As revealed last month, nbn will implement a fair use policy for the NBN satellite.  While the final policy is yet to be confirmed, the first version released saw a standard quota of 75GB per month… a far cry from the current data quotas on comparable ADSL plans.
Microwave backhaul
A report written by Engineers Australia in 2010 stated that the affected towns (amongst others) were serviced by Telstra using microwave backhaul links rather than fibre at the time it was written.  However, the testimony given by nbn executives at Senate Estimates suggests that a single non-redundant fibre path has been built since the report was written.
Originally, it appears that nbn had planned to build its transit network out to Queenstown (see diagram below, published in March 2014) using a single non-redundant spur fibre path from Sheffield or Burnie.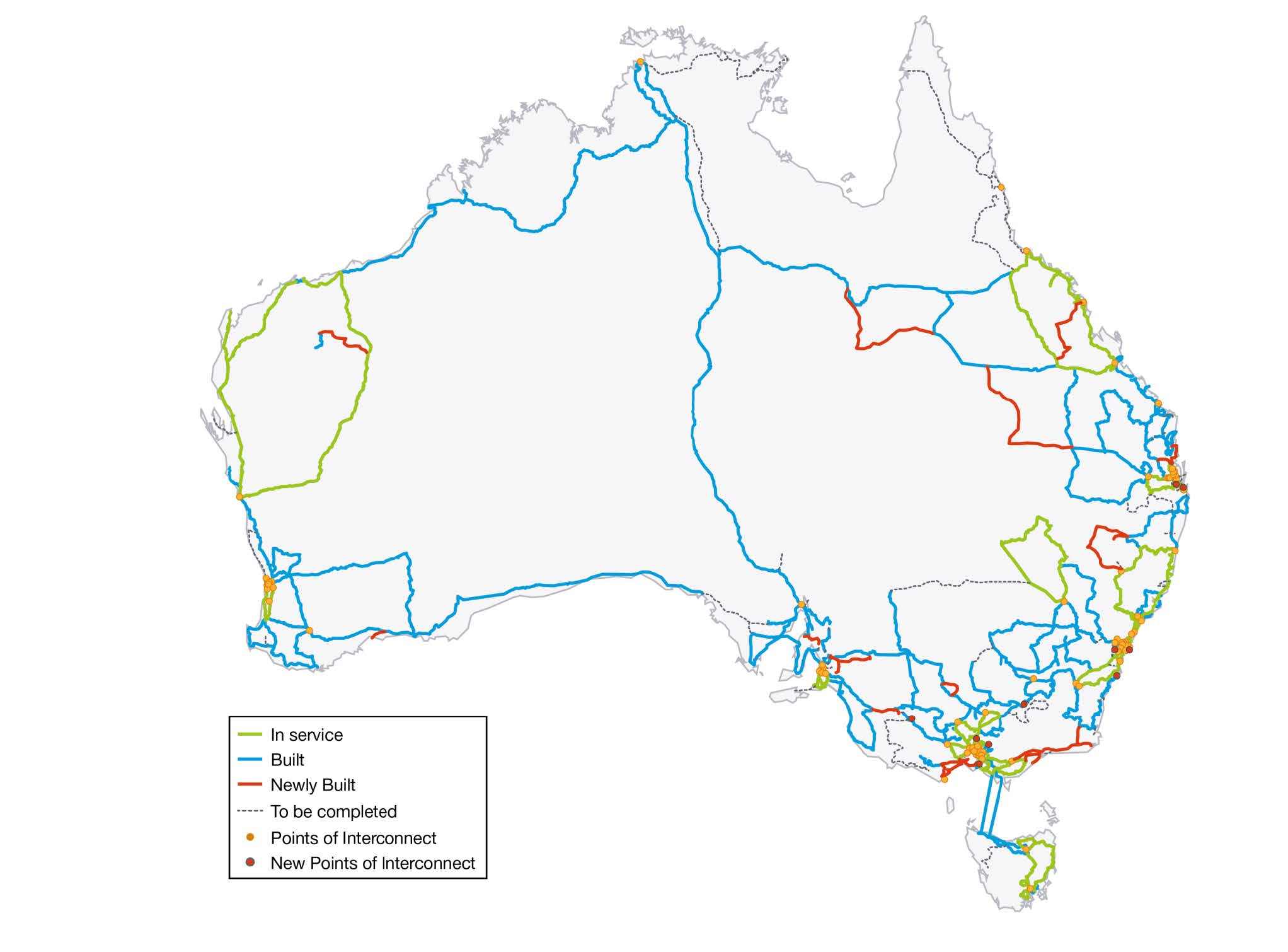 Opinion
$20 million to build a redundant path to service ~3,000 potential customers does seem unreasonably high.  I don't think it's wise to go ahead to do spend that money.
However, it does beg the question why NBN cannot use their own microwave links as the redundancy path to service the west coast communities.  Given there is supposedly already a single fibre path that nbn can utilise, using microwave links as a redundancy path would surely be cheaper than fibre — right?
nbn has effectively neglected these communities. I doubt anyone who lives in an area with existing, well-established communications infrastructure like ADSL/ADSL2+ connections and Telstra 4G mobile reception would opt for a NBN Satellite connection given their smaller data allowances (compared with fixed-line DSL) and higher latency.  This is most unfortunate, given National Broadband Network is supposed to fix and improve connectivity around Australia — not offer a degraded version of it.
I've seen isolated cases like this in the past — people able to access existing DSL broadband but placed on the satellite… but not to this scale.  Not entire communities like this.
Yes, nbn's current Government policy is to build the network out "at the least possible cost"… but that doesn't mean putting   thousands of premises into an already severely congested satellite beam!  Our former communications minister, now PM's buzzword of being "agile" seems to be lost at nbn.  Surely as a special case, there can be alternative arrangements made for the redundant path?