On-board Wi-Fi and passenger load displays coming to the New Intercity Fleet
Edit: earlier I had indicated that the trains will come in 6+2 and 2+2 sets.  I have now corrected it to show 6+4 and 4+4 sets as per the contract.
Correction (2/1/18): I had indicated that this contract delivers 426 cars rather than the full 512 cars. This is because I incorrectly calculated using 4 car short trains (rather than 8 car short trains).
It's been long overdue, but the beloved intercity V sets first introduced in the 70s will soon be replaced by a new shiny fleet of trains — the New Intercity Fleet.
Some of the details have already been publicly announced by Transport for NSW and NSW Trains… but I thought I might as well dive a little further into the contract with the UGL/Mitsubishi/Hyundai Rotem consortium to see what else I can find.
Train consist
Firstly, the train sets are to come in 6 car sets or 4 car sets — a departure from the 4 and 8 car set configuration found in the existing fleet.  According to the contract, the "initial" fleet will consist of:
Long trains: 34 long trains consisting of a 4 car and a 6 car unit, and
Short trains: 21.5 short trains consisting of 2 x 4 car units each
This adds up to 512 cars announced, in the initial fleet.  This will adequately replace the existing 225 V set cars.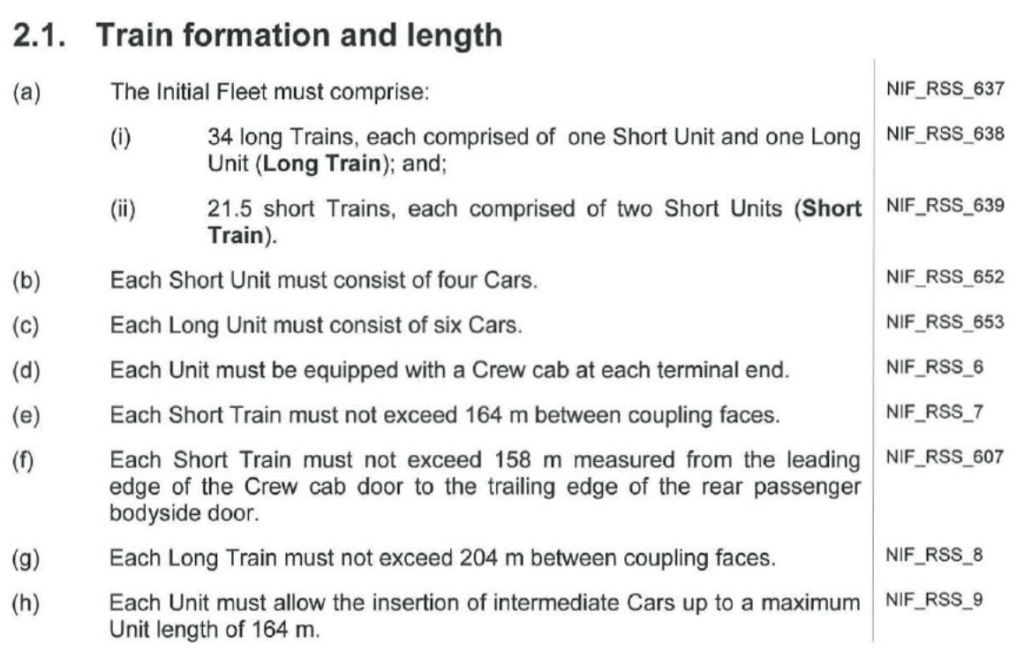 Passenger seating
The contract specifies that the short train must have the capacity to carry at least 650 seated passengers plus 345 standing passengers.  The long train must be able to carry at least 820 seated passengers and 410 standing passengers.
The contract also requires the passenger seating to "deliver a level of comfort comparable or superior to that offered by the existing TfNSW V-set rolling stock fleet".
As was announced, the seating will have a 2+2 configuration rather than the unpopular 2+3 configuration found in the current fleet of H sets (OSCAR).  Each pair of seats will get at least one USB charging port and a GPO port for charging laptops and other devices.
Seats must have leg room of at least 750mm, with seat width of at least 480mm.
On-board Wi-Fi, again
It's not the first time that we were promised on-board Wi-Fi on train services.  The Waratah (A-set) trains were initially promised to have Wi-Fi capabilities.
However, the service never eventuated… probably due to the global financial crisis which saw the Reliance Rail consortium requiring financial assistance from the NSW Government.
The New Intercity Fleet contract requires each train to be fitted with Wi-Fi equipment separate from the train's communication system.  TfNSW will provide the public internet access service.
Passenger load indicator
In a first on trains in NSW, the new fleet is expected to include a passenger load indicator on each carriage.  The contract specifies that this will be displayed on a bodyside display located on both sides of a car — similar to the destination indicator on the Hunter sets.
Sydney Trains has also been working on similar technology on its existing fleet by calculating the weight of the passengers on board.
This will (hopefully) allow passengers select a less crowded carriage at a glance.
---
There's a lot to go through in the contract… but that's just some of the interesting bits I found.  If you want to have a read of the contract yourself, they can be found on the Transport for NSW website: